André Ausseresses
Attorney At Law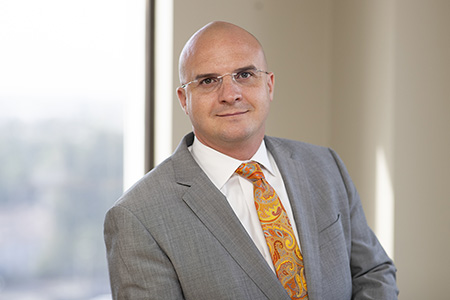 André Ausseresses is a knowledgeable and dedicated family law attorney who represents clients throughout Southern California. He has made hundreds of court appearances, and regularly practices in Orange and Los Angeles counties. André has also made numerous appearances in Riverside County, San Bernardino County, and San Diego County.
André' is aggressive when appropriate, but also provides steady guidance after a thorough analyses of the issues. These issues frequently include Child Custody and Visitation, Spousal Support, Property Division, Paternity, Parentage, and Attorney Fees.
As family law issues are ever evolving, André regularly attends continuing education seminars to stay versed in the law. André also participated in the National Family Law Trial Institute in Houston, Texas where he learned invaluable trial techniques from some of the best family law trial attorneys in the country.
André earned his Juris Doctorate from Chapman University Fowler School of Law. While in law school, he participated in the Bette and Wylie Aitken Family Protection Clinic and earned a CALI award (highest grade in the clinic) for his work related to a real world Domestic Violence case.
After graduating from law school and passing the bar, André became licensed to practice in all California state courts, as well as the United States District Court for the Central District of California. He is also a member of the Orange County Bar Association.
As a father himself, André realizes that family truly is the most important part of life. He will provide to you the necessary counsel to assist you in resolving your family law matter to the best of his ability.
Selleck Society Member, Moustaches for Kids OC
Free Initial Consultation
Helping you through family law matters such as divorce, domestic violence, legal guardianship, child support, child custody, visitation rights, alimony and more.
Serving all of Orange County, California.
Call: (949) 244-8871
What Our Clients Say About Us
This firm really cared. They gave me personal attention when I was going through my divorce. I found them to be very detailed and kept me informed every step of the way. The took away the edge of what was a trying and stressful time for me. A competent, compassionate, thorough, personal and a professional law firm.
Caring and professional! Wouldn't go anywhere else! I have had a such a GREAT experience working with this team, I had to! Everyone in the office is knowledgeable, professional, kind and quick to respond. It would truly be a mistake to go anywhere else for the services they provide!
They handled my case very well. They scoured through the details and supplied good communication so I always felt informed and clear about my position within the litigation. Each time we meet the staff was very informed and clear on the details of my case and goals for which I hired them.